Mike's dad
My father, John Harry Fleming, finally succumbed to liver cancer on 19th October 2014. The order of service for his funeral is here or click the picture below.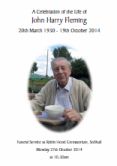 Below is the full length version of the eulogy that I read at his funeral, which was condensed due to time constraints.
Thank you all for being here today to pay tribute to Dad, who we can proudly say was a wonderful father and grandpa, loving husband of Stephanie, and a caring friend to many.
Dad was born in Ealing, London, the only son of Leonard, a church organ builder, and Dorothy, a talented milliner. As a youngster during the blitz, he was sent to stay with his aunts and uncles in Ladypool Road, Birmingham, then to Hall Green, where he attended Hall Green School and made the first of what were to be many lifelong friendships. He gained a scholarship to King Edwards School, Edgbaston, and it was there that he first started riding bicycles and motorcycles, and touring around the country with friends in his holidays. It was also here that his love of cricket began, and his tour with the Mermaid Taverners took him to the beautiful hamlet of Gorran Haven in Cornwall, which was to become a lifelong family holiday destination.
He then moved to university in Birmingham, qualifying as a dental surgeon, which set him loose on the teeth of a nation. He started his career at Dudley Road Hospital, where he met Stephanie through their shared love of crosswords. They were married in Cork, Mum's home city, which led to certain problems about four decades later. This caused a suspension of his motorcycling, as Stephanie's mother, a diminutive woman with a strength of will in inverse proportion to her size, elicited a promise that Stephanie would never go on a motorcycle.
Immediately following the wedding, Dad had to do his National Service with the RAF, and flew out to Changi in Singapore, whilst Mum had to take the slow boat. They spent the next 18 months there, working hard but enjoying their time there.
They returned to England, and lived for a while in London, when their much longed for son Michael was born. A few months later they moved to Haslucks Green Road in Shirley. Whilst settled here, David, Sally and Anne were born into a happy, busy family life. Dad converted part of the house into a surgery, and worked there. Some years later the family moved to Prospect Lane in Solihull, and Dad went into partnership with Don Hobbs, running a busy practice first on Coventry Road, then on Sheaf Lane.
The final house move came in 1978, to Knowle. Mum and Dad had both wished to become vets, but their careers took a different path, so owning a small holding meant that they could enjoy their hobby of keeping livestock, with varying degrees of success. These included hens, ducks, pigs, cattle, lambs, horses, and greyhounds.
The house needed a fair amount of renovation, which put dad's great DIY skills to the test, fitting the kitchen and doing the electrics, skills for which he was frequently borrowed to work in our own homes. Sadly his wallpapering skills did not match!
Dad also loved gardening, and created lovely gardens, and a large vegetable plot from which we all enjoyed fresh produce. He was frequently spotted giving lifts to the grandchildren on his lawn tractor, which is why they knew him as Grandpa Tractor.
Dad was also a member of Solihull Rotary Club, helping out with charitable causes, and was able to help out by hosting a bonfire night one year, which was particularly memorable for the pea soup fog when we tried to drive home!
Dad enjoyed playing bridge, and for many years met up with lifelong friends Peter, Maisie, Liz and David, as well as the local bridge club.
Dad also loved boats. Mum and her family were frequent sailors, and mum and dad bought a Graduate dinghy, which they capsized on a regular basis at Mudeford, near Bournemouth, and at Gorran Haven. This was replaced by a Gull, which remains in the family to this day. The boat was in frequent use for sailing, mackerel fishing with spinners, sitting quietly pollack fishing, and trips to nearby beaches.
Gorran Haven has become a place special to all of the family, holidaying there each year, with friends and with our children, who have in turn become fond of the place, although mum would only go if she could take the dishwasher on the front seat of her Mini! We remember Dad being left in charge of James and Theo as toddlers, and watching as they made a run for freedom across the beach, with Dad in hot pursuit! Over the years we have enjoyed endless days on the beach, riding lessons, walks to the Dodman, and evenings at the Llawnroc, where Dad got his taste for Doom Bar.
Mum and dad got more adventurous and went on several flotilla holidays, sailing around the Greek Islands. This was when the hazards of marrying in Cork were to emerge; mum's passport application was initially turned down as the passport office assumed they were both Irish.
Although Dad's motorcycling was stopped for a few decades, after his retirement he bought and restored a BSA C15, and a BSA Gold Flash, and rode locally and at the Vintage Motorcycle Club Boxing Day Meeting, where he needed an escort for the occasional break down. Sadly the Gold Flash was stolen, and soon after that dad decided to end his riding days.
Coming from a musical family, Dad was an accomplished pianist, and would often play whilst the grandchildren sang. Dad also loved listening to music, mainly classical, and enjoyed concerts at the Symphony Hall in Birmingham. He also loved classic comedy, with Flanders and Swann taking prime spot.
Anyone who knew Dad, whether as a friend or work colleague will remember his gentlemanly and gentle manner and his kindness. We are immensely proud to have had him as our father, and he was always happy to help and encourage all of us and our children, and he was delighted when Dan, Kate and Verity gained their degrees this year, that saw them embark on their chosen careers.
He also has been a great source of strength for our mother, when her mobility has been limited, and always strived to "carry on as normal". Mum and dad were happy to celebrate their diamond wedding anniversary recently, and Dad was greatly pleased for his grandson Daniel when he married Kelly two weeks ago, satisfied that the youngest generation had a bright future ahead.
Throughout his illness he never complained and bore any suffering without complaint and with dignity, happy to have his family around him to give the love and care he deserved a hundred times over. We are most grateful to the doctors, nurses and carers for their care and support.
Dad will be sorely missed by his wife Stephanie, children Michael, David, Sally and Anne, the grandchildren Daniel, Harry, Verity, Katie, James, Theo and Ollie, and extended family and friends. We consider ourselves lucky to have had such a wonderful, caring man in our lives. We would like to thank everyone for their kind words and support.